A few years ago, I began to read more in-depth about Native North American Indians and I was especially interested in the Sioux Indians.
I was inspired by a name, White Bull, which is rarely mentioned in books. White Bull was a Holyman of the Sioux Indians.
Everything I read about White Bull inspired me to create a painting of a holy Indian watching over every living creature.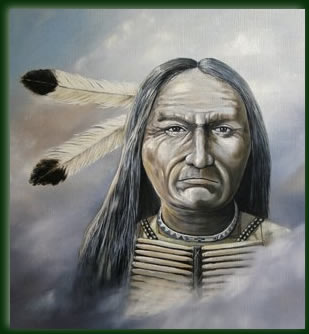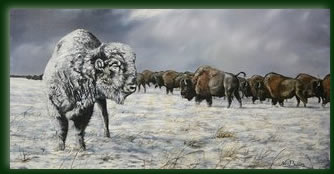 Because buffaloes are an essential part of Indian life providing food, clothing, warmth and lots more, I painted a large herd of buffaloes with a white buffalo in the foreground.
Naturally the white buffalo was a symbol for White Bull, but I found it difficult to explain the white buffalo on the canvas simply because the at that moment in time, the white buffalo did not exist.
I finished the painting in an incredibly short time and on the day that I finished the painting, I received "miraculous" phone call. My father had seen the evening news and the newsreader mentioned the birth of a white buffalo in America, and it was named Miracle. My father wanted to know if I had become clairvoyant.
Many people saw the birth of this white buffalo as a really good omen. Was it not The Great Spirit who had foreseen that there would be peace between the different nations after the birth of a White Buffalo? You can look at it in any way that you want to, but my "White Bull" painting was finished at the very moment that a white buffalo was born.
Coincidence? It was a miracle for me and for the white buffalo called Miracle. A wonderful example things coming together at the right moment. Or was it truly a miracle?
Many people are attracted by the painting.
As the original painting will never be available, I have made a poster of the White Bull painting.
Feel free to click on the picture to the right for more details about the poster.
---
The size of the poster is 24 x 18 inch and it has a coating to protect it against sunlight. The poster costs €15 including postage within The Netherlands. To send a poster abroad, it costs €10 excluding postage costs. For more information or to place an order, please contact me.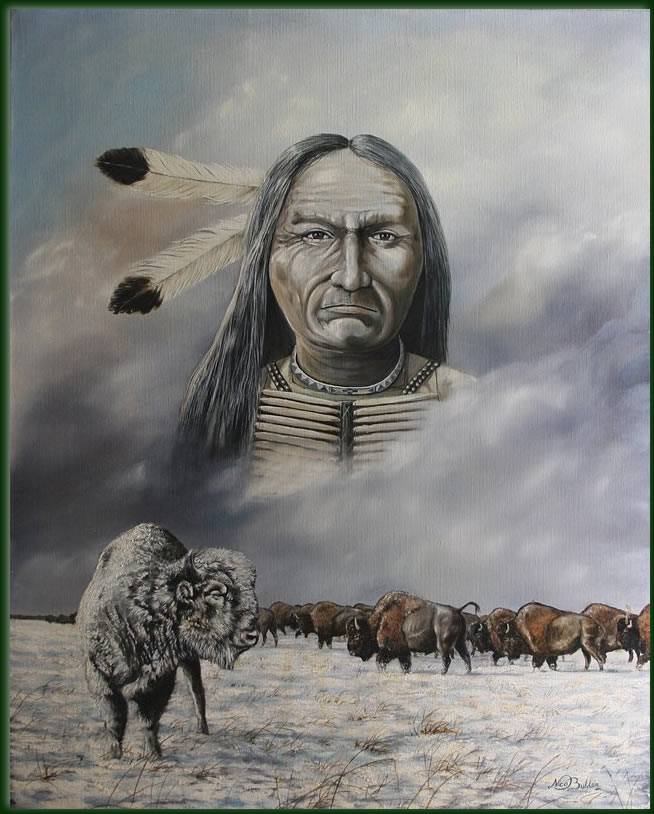 © Nico Bulder - all paintings & photographs are copyright protected and may not be reproduced without prior written permission. Some oil paintings are available, if you'd like to arrange a viewing, please don't hesitate to contact me.